Getting Google SMTP Server Settings
First of all, in order to use free SMTP server from Google, you need to allow access for less secure apps. Google started to block apps and devices that, according to them, do not use modern security standards. However, access for less secure apps can be easily turned on here.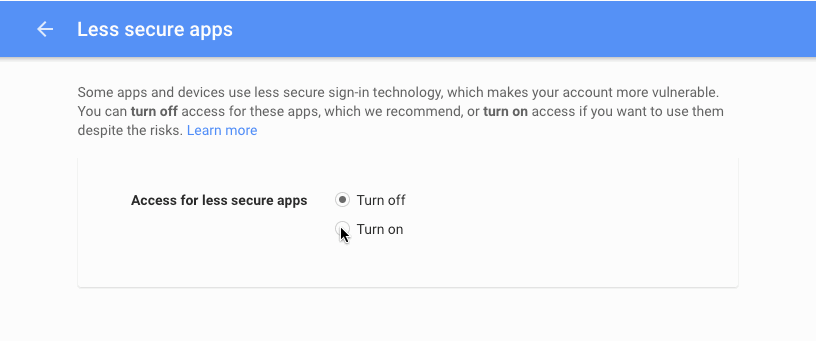 IMPORTANT: If you use 2 factor authentication to access your Google account, access for less secure apps cannot be enabled. In this case, you will have to sign in using App password.
You can find Google SMTP details below:
SMTP Server : smtp.gmail.com
SMTP Username: Your full Gmail username (email address), for example youremail@gmail.com
SMTP Password: Your Gmail password.
SMTP Port: 587
TLS/SSL: Required.
If you want to take advantage of IMAP protocol and store all outgoing emails in your Gmail Sent folder, follow these steps:
Login to your Gmail account and access Settings section.

Jump to Forwarding and POP/IMAP tab and enable IMAP.

Press Save Changes button at the bottom of the page once you are done.